Curriculum Intent
At Wickersley Northfield Primary we follow the National Curriculum objectives and expectations. It is our vision that all of our pupils, from any background, will be supported to excel both academically and socially, developing the skills of lifelong learners.
The school values of child-centred, collaboration, curiosity and challenge are at the heart of our whole school curriculum and everything that we do. The pupils work collaboratively, learning and supporting each other to maximise their achievements. We embrace new learning and promote curiosity in all learning activities, always striving to improve and develop pupils' knowledge. We set our pupils aspirational targets and provide challenge and support to ensure we get the best out of all our pupils.
We aim for our curriculum to be exceptional and to provide our pupils with a breadth of exciting opportunities to promote curiosity and broaden the mind. We are always looking at ways to improve our curriculum further to continue to meet the growing needs of our pupils.
Reading is an essential part of our curriculum at Wickersley Northfield Primary and our aspiration is for every child to read fluently and to enjoy reading. From the very outset, we place huge emphasis on ensuring every child masters the early reading skills and is able to decode fluently through the systematic teaching of our Read Write Inc. programme. Children with effective phonics, word reading and comprehension skills will then go on to become fluent readers. We aim to provide a wide range of reading experiences and opportunities for children to explore a wealth of different books and develop a love for reading.
Being a reader in childhood has considerable benefits, including increased reading attainment, a wider knowledge of the world, richer vocabulary and enhanced narrative writing. It also offers a support for children's psychological wellbeing.
We take a mastery approach to the teaching and learning of our curriculum. We believe in the importance of a depth of coverage and mastery overtime. There is a clear purpose for each activity and lesson, and connections are made between subjects and concepts. At Wickersley Northfield we have structured our curriculum to support all learners and show progression overtime. We show a commitment to achievement for every single pupil, no matter what their background or prior attainment, through encouraging the use of a growth mindset. We strive to ensure our children are active, thoughtful, resilient, and life-long learners - this is fundamental to our teaching.
All our subjects are taught discreetly to enable subject specific knowledge and skills to be developed and secured over time. However, obvious connections might be seen and taught across subjects at the same time of year.
As an Eco school, Green flag award winners and Climate Champion competition winners 2020, we are using the sustainable development goals (SDG's) that were adopted by world leaders in the historic UN Summit in 2015 to underpin and drive the culture capital of our curriculum. The SDGs are a collection of 17 interlinked global goals and are designed to be a blueprint to achieve a better and sustainable future for all. The SDG's values, knowledge and skills place human rights, responsibility and progress at the very heart of learning and further support and challenge our children to develop as independent, informed and inquisitive learners.
The 17 sustainable development goals: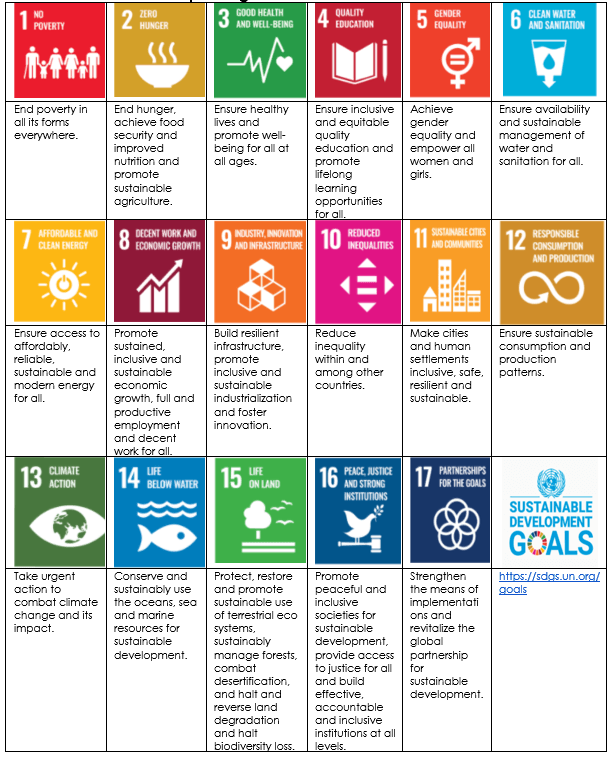 To support the development of our curriculum we have referred to the curriculum design key principles.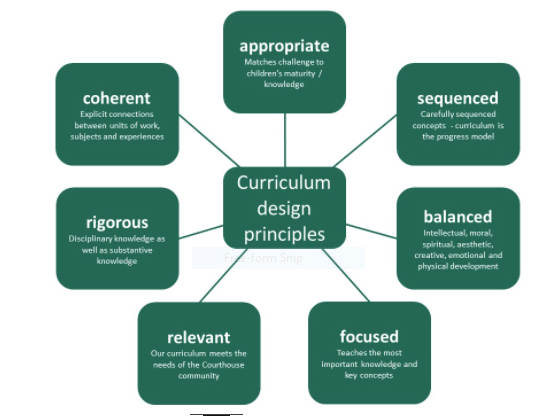 Within our curriculum schema, we have developed threshold concepts for each subject. Our threshold concepts are the 'big ideas' that shape pupils' thinking within each subject. The same concepts are explored in each year group to enable pupils to gradually increase their knowledge and understanding of them over time, retrieving and building upon what they have already learned.
Our First order concepts are the subject knowledge focus areas that we will teach and progress in each year group and the second order concepts are the subject skill areas.
In each of our foundation curriculum subjects, the breadth provides the contexts for exploring the threshold concepts. Firstly, we planned the subject areas of study and the knowledge that will be taught within each half term enabling the threshold concepts to make sense. The more knowledge the pupils have, the better their understanding of the concepts becomes. This further develops over time, supporting findings about cognitive science and the building of pupils' long-term memory.
Since our concepts develop over time and throughout all year groups, we have ensured that the pupils are given time to retrieve knowledge and skills learnt in another year group's subject area of study to enhance the teaching in each of our subjects. This enables the pupils to become creative thinkers and develop a greater depth of understanding in each concept, in all subjects.
Due to our concepts being repeated in each year group and the importance of all pupils progressing their understanding of them, we have set 4 milestones for each of the key stages through our school. The pre-milestone is covered in our EYFS curriculum, milestone 1 is covered in KS1 (Years 1 & 2), Lower KS2 (Year 3 & 4) cover milestone 2 and Upper KS2 (Years 5 & 6) cover the objectives in milestone 3. The milestones describe what may be covered within each concept, and over the two years pupils will become more familiar with them through exploring them in our breadth of contexts.
Curriculum Implementation
Our curriculum design is based on evidence from cognitive science. Three main principles underpin our curriculum:
Learning is most effective with spaced repetition.
Interleaving helps pupils to discriminate between topics and aids long-term retention.
Retrieval of previously learned content is frequent and regular, which increases both the storage in pupils' long-term memory and their ability to retrieve knowledge learned.
The content of our bespoke curriculum planning is subject specific but intra-curricular links have been developed to strengthen our schema. We also ensure the pupils are engaged with the subject content and delivery of all our curriculum teaching.
Our curriculum is taught and developed to ensure pupils' knowledge is developed and mastered over time. There is sufficient time for each concept or skill to be understood in depth.
In our curriculum we aim to develop our children's ability to think.
Thinking involves:
Having imaginative ideas.
Asking questions.
Making mistakes and using them to learn new things.
Being organised and systematic.
Describing, explaining and discussing their work.
Looking for patterns and connections.
Perseverance and resilience. (A growth mindset.)
The sustainable development goals in our curriculum offer a bridge between discreet subjects. To understand the causes of poverty (SDG1) we need to be both sociologists and historians (amongst other things), for monitoring progress towards gender equality (SDG5) we need to be mathematicians, for creating ways to deliver clean energy and climate change (SDG's7&13) we need to be geographers, engineers and scientists, and so forth.
Teaching about the SDGs can be an excellent way of addressing controversial and complex local, national and international issues.
Curriculum Impact
Through teaching our pupils about the sustainable development goals we are developing globally competent individuals who can examine local, global and intercultural issues. They also understand and appreciate different perspectives and world views, interact successfully and respectfully with others, and take responsible action towards sustainability and collective well-being.
Our curriculum is designed to change pupils' long-term memory.
We can assess the impact of a series of lessons by the pupils' ability to retrieve knowledge and skills learnt.
We intend for our pupils to be able to talk knowledgeably about a breadth of subject areas of study and concepts that they have been taught.
Assessment is one of the most powerful tools we have as teachers. Awareness of children's current skills, knowledge and understanding is key to planning the next step in their learning.
Teacher assessment and pupil self-assessment are part of our daily practice.