The Big Pedal
The Big Pedal
30 April 2021 (by Beth Proctor (BProctor))
ITV news came and videoed our children as part of The Big Pedal. Click on the link on the next page to see the clip.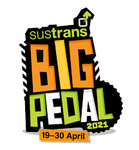 On the 20th of April ITV News came to find out about our involvement in The Big Pedal. Children were videoed scooting and wheeling around the playground before some children were interviewed.
You can see the finished news article by following this link.